Posts for tag: root canal treatment
By Eagle Rock Family Dentistry
June 13, 2019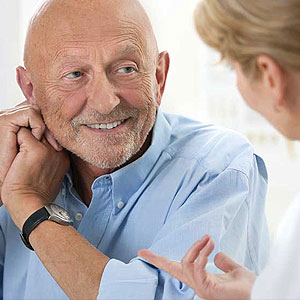 Dental implants have soared in popularity thanks to their life-likeness, functionality and durability. But these prized qualities have also created an ironic downside—people are much more likely to replace a tooth with an implant rather than go through the time and effort to preserve it.
We say downside because even though an implant is as close to a real tooth as we can now achieve in dentistry, it still can't rival the real thing. It's usually in your long-term health interest to save a tooth if reasonably possible. And, there are effective ways to do so.
Most dental problems arise from two common oral diseases. One is tooth decay, caused by contact with acid produced by bacteria living in dental plaque. We can often minimize the damage by treating the early cavities decay can create. But if we don't treat it in time, the decay can advance into the tooth's pulp chamber, putting the tooth in danger of loss.
We can intervene, though, using root canal therapy, in which we drill into the tooth to access its interior. We clean out the decayed tooth structure, remove the diseased pulp tissue and fill the empty chamber and root canals to seal the tooth and later crown it to further protect it from re-infection.
Periodontal (gum) disease also begins with bacteria, but in this case the infection is in the gum tissues. Over time the ensuing inflammation locks into battle with the plaque-fueled infection. This stalemate ultimately weakens gum attachment, the roots and supporting bone that can also increases risk for tooth loss.
We can stop a gum infection through a variety of techniques, all following a similar principle—completely removing any accumulated plaque and tartar from the teeth and gums. This stops the infection and starts the process of gum and bone healing.
You should be under no illusions that either of these approaches will be easy. Advanced tooth decay can be complex and often require the skills of an endodontist (a specialist in root canals). Likewise, gum disease may require surgical intervention. But even with these difficulties, it's usually worth it to your dental health to consider saving your tooth first before you replace it with an implant.
If you would like more information on how best to treat a problem tooth, please contact us or schedule an appointment for a consultation. You can also learn more about this topic by reading the Dear Doctor magazine article "Save a Tooth or Get an Implant?"
By Eagle Rock Family Dentistry
February 15, 2018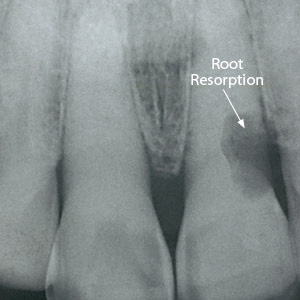 Along with the gums, your teeth's roots help stabilize them. Without them your teeth couldn't handle the normal biting forces you encounter every day. That's why a rare condition called root resorption must be treated promptly: this gradual breakdown and dissolving of root structure could eventually cause you to lose your tooth.
Resorption is normal in primary ("baby") teeth giving way for permanent teeth or sometimes during orthodontic treatment. But the form of resorption we're referring to in permanent teeth isn't normal, and is highly destructive.
The condition begins in most cases outside the tooth and works its way in, usually at the gum line around the cervical or "neck-like" region of the tooth (hence the term external cervical resorption or ECR). ECR produces pink spots on the teeth in its early stages: these are spots of weakened enamel filled with pink-colored cells that cause the actual damage. The cells create cavity-like areas that can continue to enlarge.
We don't fully understand what causes ECR, but there seems to be links with excessive force during orthodontics, tooth trauma (especially to the gum ligaments), tooth grinding habits or internal bleaching procedures. However, most people with these problems don't develop ECR, so the exact mechanism remains a bit of a mystery.
The good news, though, is that we can treat ECR effectively, provided we discover it before it inflicts too much damage. That's why regular dental visits are important, coupled with your own observation of anything out of the ordinary and immediate dental follow-up.
If the affected area is relatively small, we may be able to remove the cells causing the damage and repair the area with a tooth-colored filling. If it appears the pulp (the tooth's innermost layer) is involved, we may need to perform a root canal treatment to remove infected tissue and fill the empty space with a special filling. You may also need other procedures to reduce the chances of gum recession around the affected tooth.
Proactive dental care is your best insurance against losing a tooth to root resorption. So keep an eye on your teeth and see your dentist regularly to keep your teeth and gums healthy.
If you would like more information on the signs and treatments for root resorption, please contact us or schedule an appointment for a consultation. You can also learn more about this topic by reading the Dear Doctor magazine article "Root Resorption: An Unusual Phenomenon."
By Eagle Rock Family Dentistry
May 12, 2017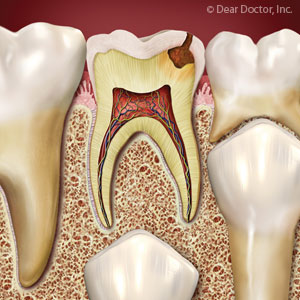 Primary (baby) teeth might not last long, but their impact can last a lifetime. Their first set of teeth not only allows young children to eat solid foods, but also guide permanent teeth to form and erupt in the proper position.
Unfortunately, primary teeth aren't immune to tooth decay. If the decay is extensive, the tooth may not last as long as it should. Its absence will increase the chances the permanent teeth won't come in correctly, which could create a poor bite (malocclusion) that's costly to correct.
If a primary tooth is already missing, we can try to prevent a malocclusion by installing a "space appliance." This keeps nearby teeth from drifting into the empty space intended for the permanent tooth. The best approach, though, is to try to save a primary tooth from premature loss.
We can often do this in much the same way as we would with a permanent tooth — by removing decayed material and filling the prepared space. We can also perform preventive applications like topical fluoride or sealants that strengthen or protect the tooth.
It becomes more complicated, though, if the pulp, the interior of the tooth, becomes decayed. The preferred treatment for this in a permanent adult tooth is a root canal treatment. But with a primary tooth we must also consider the permanent tooth forming below it in the jaw and its proximity to the primary tooth. We need to adapt our treatment for the least likely damage to the permanent tooth.
For example, it may be best to remove as much decayed structure as possible without entering the pulp and then apply an antibacterial agent to the area, a procedure known as an indirect pulp treatment. We might also remove only parts of the pulp, if we determine the rest of the pulp tissue appears healthy. We would then dress the wound and seal the tooth from further infection.
Whatever procedure we use will depend on the extent of decay. As we said before, our number one concern is the permanent tooth beneath the primary. By focusing on the health of both we can help make sure the permanent one comes in the right way.
If you would like more information on caring for children's primary teeth, please contact us or schedule an appointment for a consultation. You can also learn more about this topic by reading the Dear Doctor magazine article "Root Canal Treatment for Children's Teeth."
Contact Us
2525 Colorado Boulevard Suite A Los Angeles, CA 90041